The History of The Art Car
It is not unusual to be struck with the same instinctive, passionate reaction to a car as you do a painting or sculpture, but can a car stand alone as a work of art? The concept of the car as art is widely debated, but we're turning the discourse on its head to explore the history of the Art Car with a selection from some of the world's most celebrated artists, who have turned to the car for their canvas…
'An art car is a vehicle that has had its appearance modified as an act of personal artistic expression. Art cars are often owned and driven by their creators, who are sometimes referred to as 'Cartists". 
Dave White Jaguar E Type, 2014
Beginning with our pick of the bunch, we have the Jaguar E type meticulously hand painted by contemporary artist Dave White in 214. Heralded at the Museum of Modern Art in New York not once, but twice for its undeniable aesthetic prowess, when White took his brush to the body of the car and transformed it with his signature style, he created what we believe to be the most beautiful Art Car of all time. 
In collaboration with Loughran Gallery the hand-painted car was exhibited side-by-side with the artists large scale oils, watercolours, and some very limited editions in London, and captured the attention of the national press with features in the Evening Standard, FAD Magazine and Harpers Bazar.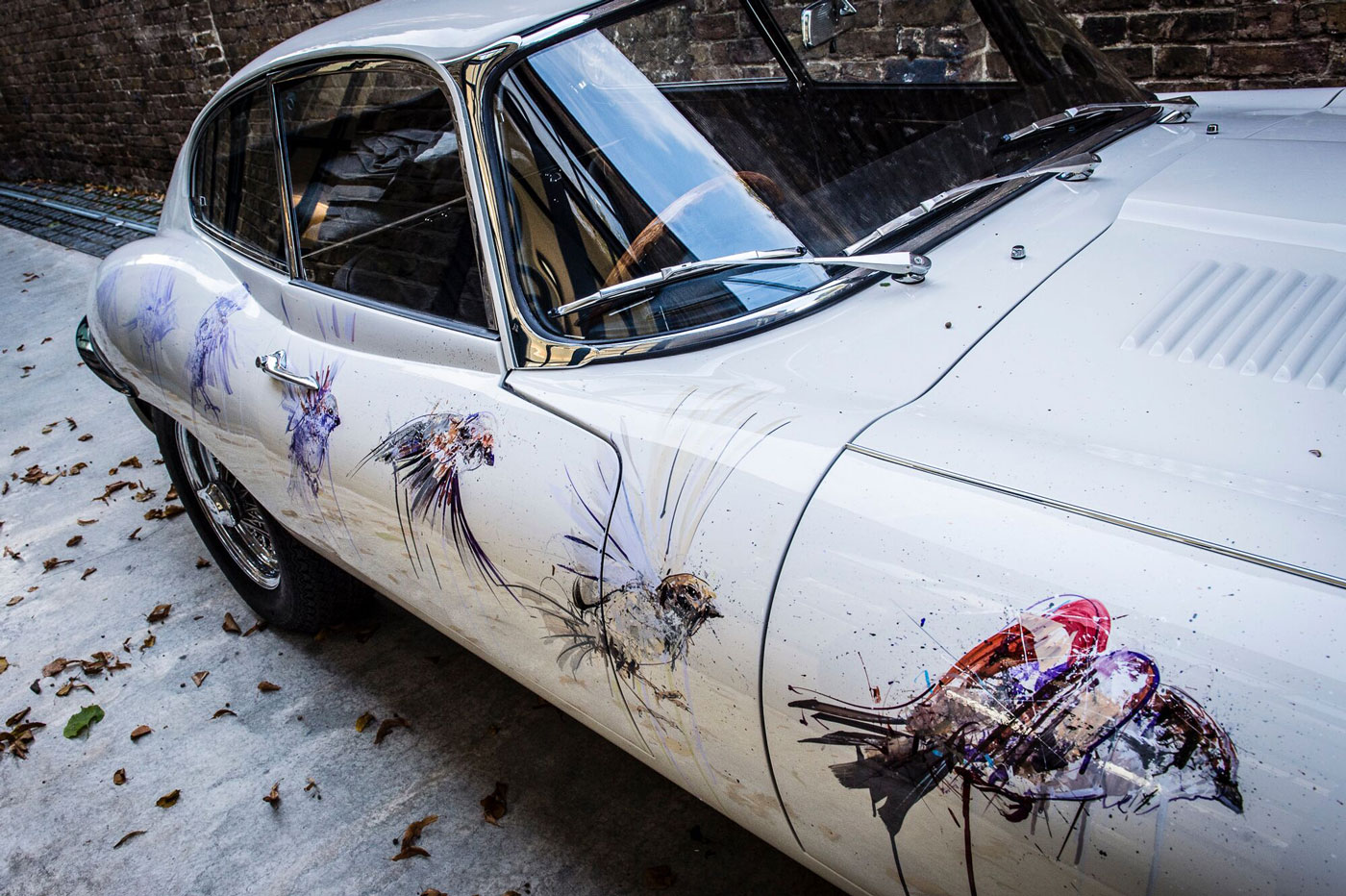 Touted by The Independent as 'The new Andy Warhol' Dave Whites Albion collection saw a departure from his prior subject matter, to explore the heritage and iconography of the British Isles – befitting for a classic car with such a significant British Heritage.
"I chose to depict a flying sparrow movement piece upon the car," says Dave. "I wanted something that was small and dynamic which captured the grace and beauty of speed and freedom, which complimented the qualities of the car itself."
Jenny Holzer BMW V12 LMP, 1999
Belonging to the coveted BMW Art Car collection is this 12-cylinder, V12 LMP that was built as a prototype for the Le Mans 24-hour. Jenny Holzer was the second female artist to create an Art Car for BMW transforming its body with provocative phrases like 'lack of charisma can be fatal' and 'protect me from what I want'. The delivery of words and ideas in public spaces is at the heart of her body of work, making her design for the race car all the more apt.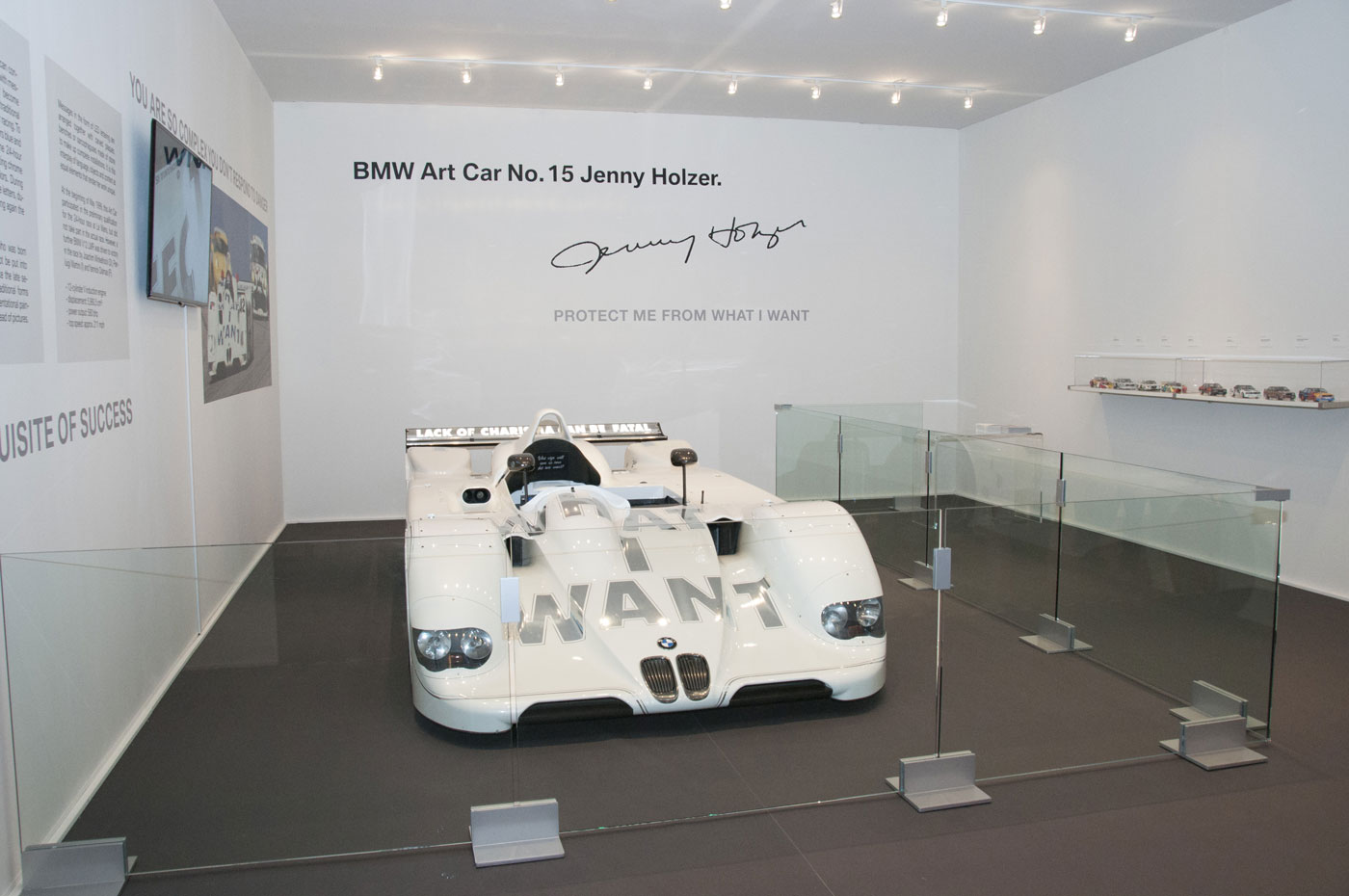 Taking into consideration the pre-requisite of any race car, Holzer used a light, reflective foil to avoid adding any extra weight to the vehicle, the chromatic appearance of which allowed the characteristic BMW blue and white to remain visible throughout the 24-hour race at Le Mans with the reflection of the sky appearing in the letters during the daytime, and the desorbed daylight reappearing in the foil at night.
Keith Haring Land rover Series III  109 Station Wagon, 1989
Keith Haring developed his iconic visual language in the New York subway, covering blacked out advertising spaces with his gesticulating figures and energetic line work in chalk. In the course of his career he collaborated with Madonna, Grace Jones and Yoko Ono and was concerned with making his art as widely accessible and available to the masses, with his own Pop Up shop and a collaboration with Swatch watches.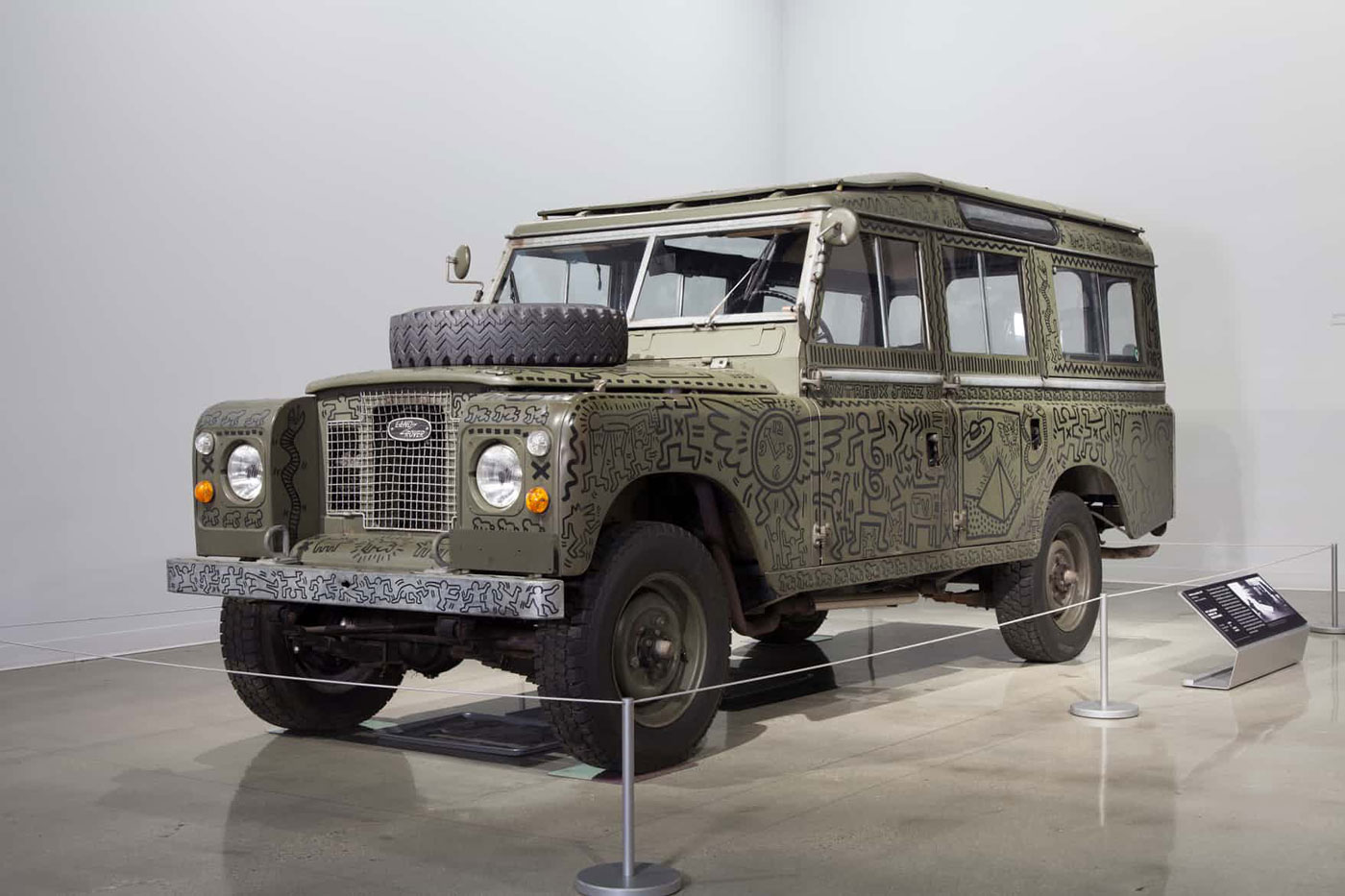 Billboards, stage sets and night club walls were amongst his other canvasses, and he produced a whole series of art-on-wheels where he drew directly on to cars, vans and motorbikes. Haring's black line work transforms the Heritage Green bodywork of this Land Rover Series III 109 Station Wagon to appear almost like camouflage, which is particularly fitting for the off-road vehicle.  
Produced by the British manufacturer Rover Company that were inspired by the US-built Willy's Jeep, In 1992, Land Rover claimed that 70% of all the vehicles they had built were still in use. Series III production ran from 1971 until 1985 and saw many changes from the Series II design and engineering in its lifetime to meet increased competition.
Andy Warhol BMW M1, 1979
Screen-printed images of Marilyn Monroe and Campbell soup cans are synonymous with the work of Pop Artist Andy Warhol, and his contribution to the BMW Art Cars Collection is no less iconic. The industrialization of art was a key concept in Warhol's work, which made the painting of this car such a natural extension of his oeuvre.  Bypassing the technicians used by other artists to manifest their smaller scale models, Warhol covered the car with huge vibrant stokes of colour giving the impression of movement, as if the car were racing down the track. When asked if he was pleased with the result Warhol said that "it is better than the work of art itself".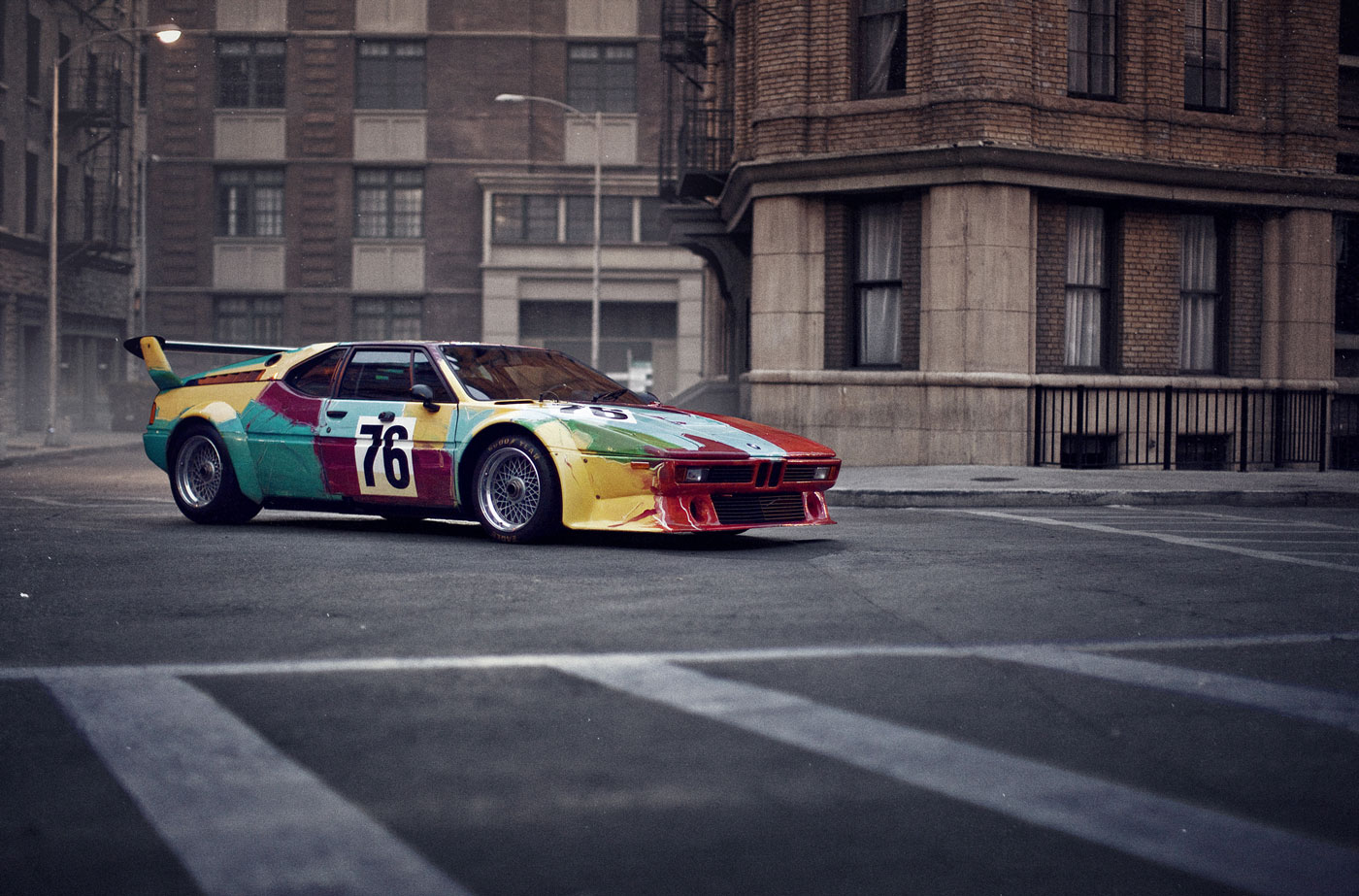 The BMW M1 was raced by Manfred Winkelhock, Hervé Poulain and Marcel Mignot for the first and last time in the 24-hour race at Le Mans in 1979. Featuring a six six-cylinder inline engine, twin overhead cam shafts and a top speed of 307km/h it crossed the line in sixth place, finishing 2nd in its class.
Sonia Delaunay Citroën B12, 1925
A key figure in the Parisian Avant-Garde Sonia Delaunay was an abstract artist whose creativity protruded the confines of canvas. Delaunay illustrated for Vogue, turned her hand to set and costume design, and established her own global textiles label 'Tissus Delaunay' alongside setting up her own interior and fashion boutique, 'Casa Sonia' in 1918. Her Citroën B12 exists as one of the earliest examples from the Art Car movement.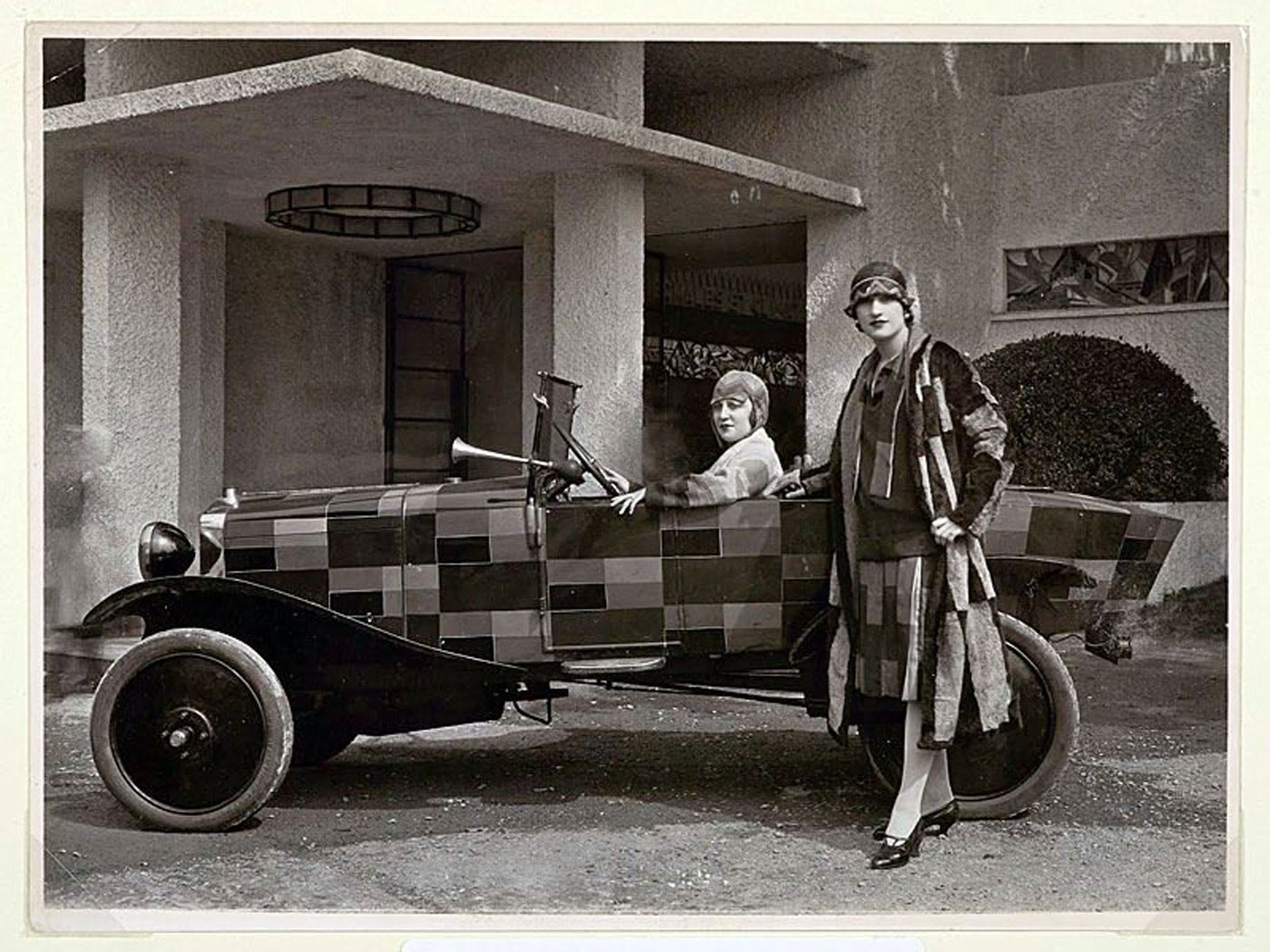 'I always changed everything around me… I made my first white walls so our paintings would look better. I designed my furniture; I have done everything. I have lived my art'. 
With bold, geometric paintwork Delaunay's Citroën B12 appears to transcend time, brining this classic car effortlessly into the 21st century. But perhaps what's most inspiring about this piece of automotive history is what it stands for; her rejection of convention, and her fidelity to living by her own set of rules.